Enjoy Your Outdoor Space, Shaded from the Elements
Retractable Patio Screens
Retractable Screens enclose large areas without obstructing views or detracting from architectural design. They are great for patios, gazebos or sunrooms. They are perfect for allowing fresh air in and keeping glare and heat out while entertaining friends and family or relaxing alone. Motorized retractable screens will help you enjoy both your indoor and outdoor spaces with ease and comfort. They also provide additional privacy and security to your area.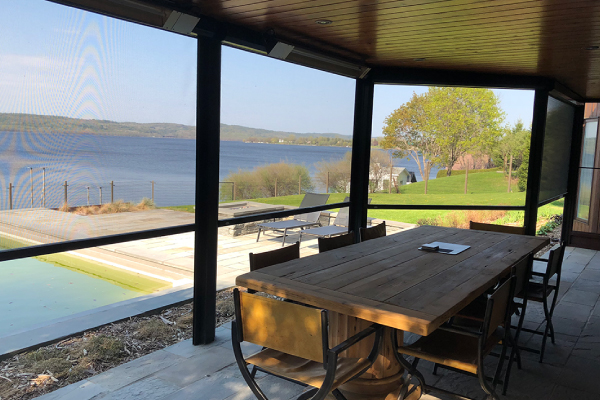 Our retractable screens look great on any outdoor enclosure. They are made to fit your space perfectly, whether you are enclosing a sunroom, patio area, gazebo, or other space. Furthermore, they allow you to see out easily so you can still enjoy nature and feel like you are outdoors.
Whether you are trying to keep out the glare of the sun or those pesky mosquitoes, your retractable screen can help keep you and your family in absolute comfort.
Motorized retractable screens are easy to open, close, and adjust at the touch of a button. As the sun moves through the sky, you can adjust your screen without ever leaving your seat or interrupting your conversation.
Talius Habitat Screens
Talius Habitat Screens are installed on the outside of windows to stop the sun's heat and glare before it hits the window. It is made of material that is designed to absorb and reflect the sun's glare. This way customers can still enjoy the view, but avoid the sun's glare. In addition, it offers privacy by day as well as at night.
If the screens are left in the down position, they will additionally protect against insects. However, with heavy window conditions, they should be raised. Wind sensors can be installed to automatically retract the screen when it gets too windy.
Our Retractable Screens at Work
Large Openings
Retractable screens are also available for oversized doors and large openings. In our gallery above, you can view how we have installed retractable screens for garage doors, gazebos, archways and pool cabanas. From the inside, these screen doors are virtually invisible, allowing you to enjoy the comforts of a shaded, cool and insect-free outdoor space.
If you enjoy eating outdoors, these retractable screens allow you to enjoy your food without worrying about flies swarming your dinner spread. Our retractable screens also provide shade from the direct glare of sunlight, providing a climate-controlled space where you can enjoy all the beauty of your backyard.
Henry installed our awning a few years ago. Great price and excellent customer service. Was having a minor issue today and sent him an email at 6:00pm on Friday afternoon. He called me back within ten minutes and helped me fix the problem over the phone in 2 minutes. Couldn't ask for better customer service and support. I would highly recommend this company.
Was a pleasure working with the Jan's team. Professional workmanship and very happy with the final product. Screens are a great additional to our outdoor space.
On the recommendation of a neighbour we contacted Jans Awnings and Rollshutters for a quote on a deck awning. Henry Jans came to our house for a contactless quote. We were happy with the price and chose a fabric. The installers were polite, professional, knowledgeable and efficient. We're very happy with the results.
Jans Awnings (Woodlawn/Ottawa) does high quality work with high quality products. Great installation, great service. We are so pleased with our retractable screen. An outdoor room…with no mosquitoes!
It was the best experience ever it is our 10th Anniversary owning a product that still functions and performs super well all these years! Keep up the good work to Mr. Jans and I try to forward clients and potential customers every time we see a home that needs a dress up!
Jans does quality work. The owner is hands on and makes sure that the clients are happy. I would recommend them to anyone.
Very pleased with the awning, installation staff did an excellent job removing an old awning and matching vinyl siding that had to be replaced.
Installed my custom awnings on commercial building and they look great.