Retractable Canopies for Great Shade and Weather Protection
Retractable Canopy Shades
Retractable Shade Solutions block the sun from your balcony or veranda while still allowing you to see the outdoors and feel that you're still outside.
At Jans Awnings, our experts can offer a variety of economical ideas for shading your deck or patio that also add value and hours of enjoyment to your home and backyard. Retractable shades allow you shelter from the sun's rays, light rain and look great.
Benefits of retractable shades include:
Turn your hot deck or patio into a cool, shaded "outdoor room."

Retractable awnings cover odd-shaped or large areas

No pitch is required and it can adapt to an existing structure. (No wall required)

We use great fabrics that are fade resistant

Provide added wind protection
What is a Retractable Shade?
Retractable Shade Solutions are systems whereby they give you the benefits of shade without the need to make permanent changes or cuts in your deck. A retractable shade can limit what is seen and what is not seen from people on either side of you while still allowing air and light through and having an elegant and attractive appearance.
Retractable Shades solve many problems such as rain protection, sun protection, wind protection or seeking that extra level of privacy. The versatile nature of retractable shade allows you to control how much shade you have in your outdoor living space. When it's too sunny, or there is a light rain, you can seek protection under the shade. Meanwhile, when it's stormy out, you can roll the shade in, ensuring it is not damaged by heavy winds or hail.
You can further improve your patio shade with motorized screens and retractable awnings. Motorized options are also available and can be controlled off-site by smartphone apps or remote control.
Feel free to visit or contact Jans Awnings and Rollshutters today to learn more. Our installation team has provided great customer service for decades to thousands of customers who now enjoy great shade from the hot sun in their outdoor space.
Extend the use of your outdoor space
Low maintenance and easy to care for
Protection from the elements
You've worked hard to create an outdoor space that you love, but when the sun is overly hot or when there is light rain, it means you are back indoors once again. With a beautiful retractable shade, however, you can get much more enjoyment from your outdoor space as it allows you to be outside in less than ideal weather while still feeling perfectly comfortable.
We use fabrics and materials that are easy to wash and care for. They are UV resistant and can last for many seasons with minimal maintenance.
Not only do our retractable shades protect you from the elements, but they also protect your belongings from the elements. This includes the protection of your outdoor furniture, planters, etc. They even provide protection for items inside your home, such as furnishings and window coverings, as these shades help prevent harmful UV rays from shining through your windows.
ShadeFX Retractable Canopies
With ShadeFX Retractable Canopies, you can cover up to 600 sq. feet with the push of a button. You can protect against the sun and rain, or open the area up fully as desired. You can also combine multiple canopies to protect even larger areas.
BetterLiving™ Shade Products
When you need shade for your patio, you will be amazed at your options from BetterLiving™ Shade Products. We offer 5 models of retractable patio awning and three models of retractable canopies. We can retrofit your existing pergola to protect you from the sun's heat and light rain. Our solar shades install on the outside of your window, can be motorized with remote control, and come in many fabric choices so you can select just the degree of shading you need.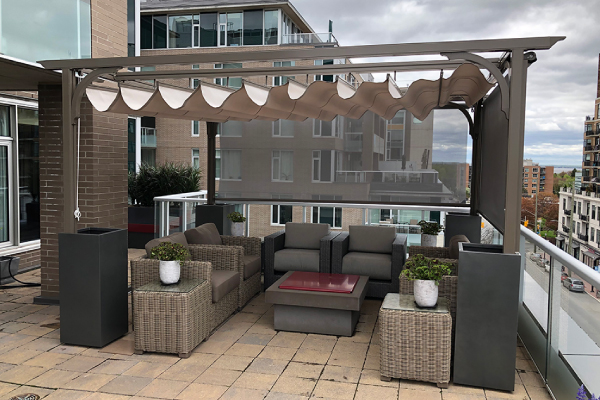 Our Retractable Shades at Work
Henry installed our awning a few years ago. Great price and excellent customer service. Was having a minor issue today and sent him an email at 6:00pm on Friday afternoon. He called me back within ten minutes and helped me fix the problem over the phone in 2 minutes. Couldn't ask for better customer service and support. I would highly recommend this company.
Was a pleasure working with the Jan's team. Professional workmanship and very happy with the final product. Screens are a great additional to our outdoor space.
On the recommendation of a neighbour we contacted Jans Awnings and Rollshutters for a quote on a deck awning. Henry Jans came to our house for a contactless quote. We were happy with the price and chose a fabric. The installers were polite, professional, knowledgeable and efficient. We're very happy with the results.
Jans Awnings (Woodlawn/Ottawa) does high quality work with high quality products. Great installation, great service. We are so pleased with our retractable screen. An outdoor room…with no mosquitoes!
It was the best experience ever it is our 10th Anniversary owning a product that still functions and performs super well all these years! Keep up the good work to Mr. Jans and I try to forward clients and potential customers every time we see a home that needs a dress up!
Jans does quality work. The owner is hands on and makes sure that the clients are happy. I would recommend them to anyone.
Very pleased with the awning, installation staff did an excellent job removing an old awning and matching vinyl siding that had to be replaced.
Installed my custom awnings on commercial building and they look great.