How to Extend the Life of Your Awning
You've invested wisely in a high-quality, attractive retractable awning and want to make it last, but awnings, like other outdoor furniture, needs some care once in a while to maintain its quality.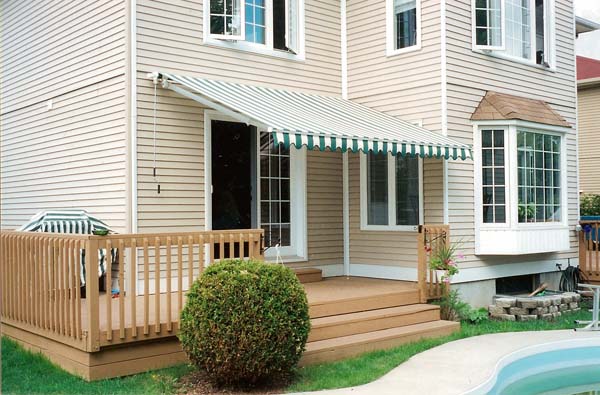 Awnings have changed over the years with structures that are much stronger and water resistance fabrics, like Sunbrella™, which is more weather resistant. Even with these advances in both technology and material, extreme weather including sun, rain and wind can wreak havoc with your awnings longevity. Your awning versus the weather can be managed and maintained by both you and the quality of your awning.
Protection from Weather
It's pretty obvious that the easiest solution to preventing damage to your awning during a storm is to retract your awning. It's also helpful when an awning is mounted close to the house because this prevents it from being vulnerable to sun, rain and wind.
A good quality awning, like those available at Jans Awnings, can hold some water because they are water resistance, but not waterproof, so it's best to avoid accumulating an abundance of water on it. How much water your awning can take on is dependent on its pitch, but for safety sake, it's best to retract your awning during inclement weather.
When you have a quality retractable awning, the constant beating down of the sun's rays shouldn't be a problem since they're designed primarily to protect us from the effects of the hot sun. However, even though they're treated so that they do not deteriorate over time from the constant effects of the heat of the sun, they may require cleaning every once in a while to keep them looking fresh and new.
Wind is unpredictable, and you cannot trust its velocity at any time during a whirlwind storm, so the most prudent thing that you can do is retract your awning. Even the most stable elements of an awning are subject to damage by high winds and given a strong enough wind your awning can do damage to your home.
Cleaning & Maintenance
When you keep your awning in good repair, you extend the life of it considerably. You should inspect the mechanisms of the awning and clean them on occasion to keep them functioning at top performance. It is not recommended to use any type of detergent, but rather a very mild soap is your best bet for cleaning purposes. If your fabric has stains on it that you wish to remove, lather soap in your hands and apply it to the stained area. You can use a brush, similar to car brushes, to gently cleanse the area and rinse.
Protect Your Awning
By protecting your awning from the sun, rain, and wind, your awning will shelter you and provide you with many years of comfort and enjoyment. Contact us today to further discuss extending the life of your awning!
Share This Story, Choose Your Platform!