Outdoor Living Spaces
Adding more square feet to your home
Creating an outdoor living space can add value to your home and improve your quality of life.  Having a nicely maintained outdoor space encourages families to spend more time outdoors, away from computers and television. When trying to decide what type of outdoor living space is best suited for your home, there are many options to consider.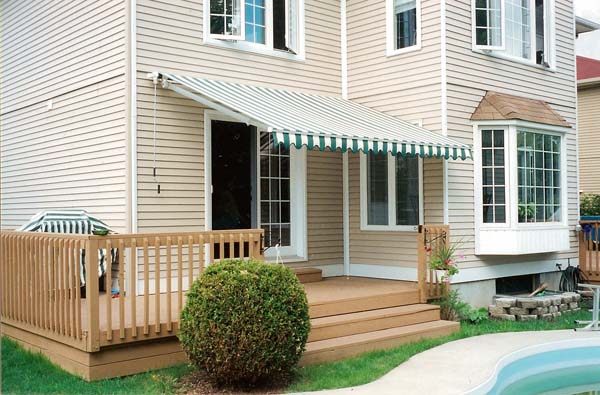 DECK:
A deck is a surface capable of supporting weight constructed out of treated timber, composite lumber, aluminum or other hardwoods that acts as an outdoor floor most commonly found in backyards attached to the home.  In recent years, architects have discovered that recycled materials can be transformed into durable deck material, and many decks can now be environmentally friendly.  Decks are strong enough to support the weight of furniture, barbeques, storage units and lots of people.  They are an excellent option if your backyard has uneven ground or lacks a comfortable ground covering. Decks can come in multiple storeys and sizes.  It is easy to construct a custom deck to suit your needs- so if your back yard is in need of an inviting upgrade, a deck may be the answer for you.
BALCONY:
A balcony is a platform that projects from the exterior wall of a building, usually supported by the story below, columns or beams, and can come either covered or uncovered with the use of an awning.  The most common balcony is the traditional Maltese balcony that protrudes from the wall.  The Juliet balcony is a full length window that has a metal barrier crossing it with only a very small area to step outside.  While many balconies provide just a small space giving home owners the opportunity to get some fresh air from the second floor of their home, some balconies can become a great space for entertaining or enjoying a meal.  Although balconies are a more complicated addition to your home than a deck, balconies are often added as an addition to a home to create more space and add opportunity for home dwellers to spend time outdoors.  They are a great value-add for a homeowner, and can definitely add personality and character to any house.
PORCH:
A porch is a construction attached to the external walls of a home and can come in all shapes and sizes.  Most porches are found before the entry way into a home.  Like balconies, there are a variety of porch styles.  One of the most common is the verandah, which is usually quite large, some even wrapping around the entire home. Porches can be open entirely to the outdoors, partially enclosed by latticework, or fully enclosed by windows or screens. Many porches will have seating areas for people to entertain or spend time outdoors, but they are less often used over meal times and do not often house outdoor appliances.
Awnings and Outdoor Living Spaces
Jans Awningns near Ottawa can add awnings to any deck, balcony, or porch.  Awnings help keep you cool in the summer, and helps protect you from nasty UV rays.  Jans Awnings can put an awning over your porch, balcony, deck or veranda.  There are many styles of awnings to choose from, such as retractable awnings and aluminum awnings.
Share This Story, Choose Your Platform!