Retractable vs. Fixed Awnings
Many residents of Ottawa enjoy the comfort and shelter provided by awnings. If you are looking to purchase an awning for your home or business however, you may be surprised to learn the vast array of choices you have when it comes to this feature. The first decision you will usually have to make is whether to get a retractable or a stationary awning.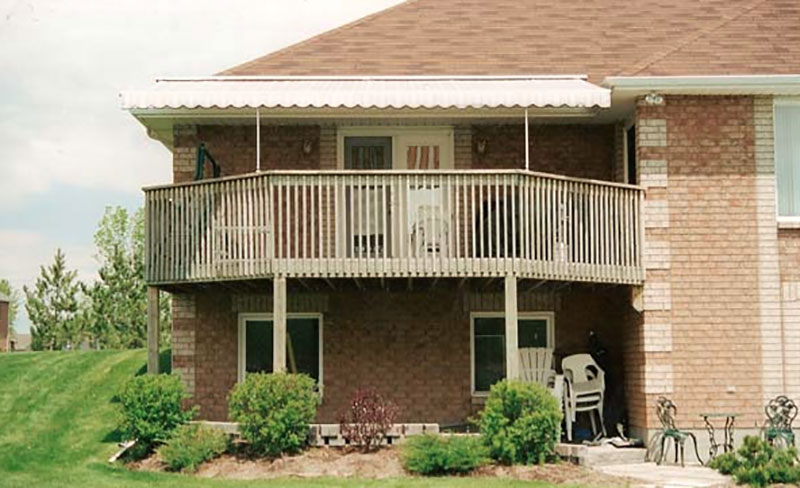 Both have their pros and cons.
Retractable awnings
Many people in Ottawa choose retractable awnings for their home because they offer flexibility. For example, you may not always want your awning extended. Some people prefer to use them only when the sun is very hot or when they need shelter from the rain. If the awning is retractable, you have the option of whether to use it or not.
Retractable awnings are made from a heavy duty fabric which comes in a wide variety of prints and colours. If you are the type of person that likes to keep changing up your décor, then by installing a retractable awning, you will also have the option to change the look of your awning with the season or when the mood strikes you.
One drawback is that because they have moving parts, a retractable awning is going to be more expensive than a stationary one. While the older hand-crank style is still available on the market today, most retractable awnings are now motorized and can be controlled with a switch or remote.
Fixed awnings
Fixed awnings are for those who wish for it to be a permanent part of their building. This type of awning is frequently used by business owners because they can be used to incorporate signage. For example, a fixed awning that is part of a local restaurant may display the business name and phone number.
These awnings tend to be less costly than their retractable counterparts and very sturdy.
Additionally, fixed awnings offer more choice in shape and covering material. Like retractable awnings, fixed awnings may be covered in fabric, but they can also be covered in aluminum or other specialty materials.
Should I choose a retractable or a fixed awning?
The answer to what type of awning you should choose depends in part on your personal preference, but also on the space that you have to work with.
If you want the flexibility of being able to only have the awning out when you want, then a retractable awning makes sense. It is also a good choice if you live in an area that frequently gets high winds because you'll be able to roll it up when the weather turns nasty.
On the other hand, a stationary awning can still be a good choice if you have enough room for the required supporting posts and if you have your heart set on a particular shape.
As long as you have your awning installed properly and take good care of it, either kind can last you for many years.
Whether you are in the market for a retractable awning or a fixed awning – or whether you still have questions – the experts at Jans Awnings in Ottawa can help. Contact us today to learn more.
Share This Story, Choose Your Platform!