Heat, Privacy, and Bug Protection with Retractable Screens
Want the ambiance of an outdoor space without all the bugs? Want to be out in the open but also enjoy a little privacy? Sounds like you could use retractable screens.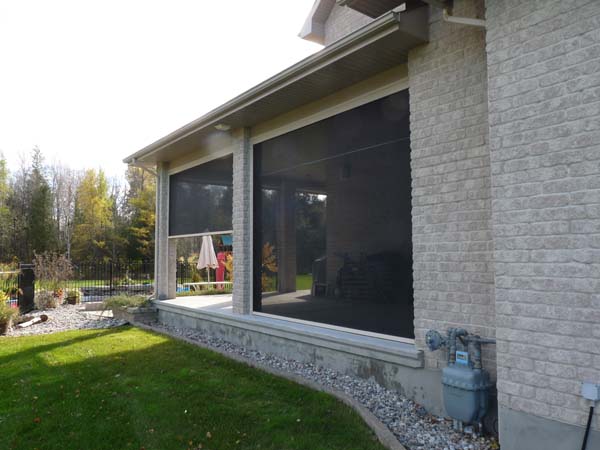 Whether it's a gazebo, pergola, porch or sunroom, retractable screens will take your outdoor structure and make it more enjoyable, for a longer period of time.
Finding enough warm dry weather in southern Ontario can be a challenge. We spend a whole lot of money and time on our outdoor space, only to enjoy if for a relatively small amount of time. There are some tricks to consider when trying to extend your outdoor season and retractable screens are at the top of the list. Many factors endeavour to ruin our outside parties and barbecues. Retractable screens can make all the difference.
Why Invest in Retractable Screens?
Too much heat, privacy issues, and bugs are all culprits that can shorten a birthday or pool party in a hurry. With a retractable screen, the party can go on. Retractable screens act much like your standard window and door frame but are more versatile since they can be placed out of the way when weather permits. Retractable screens enable you to enjoy both your indoor and your outdoor space by keeping the bugs out and providing increased privacy.
Protection Against Heat
During the hottest months of the summer, the heat from the sun can actually keep us indoors. Retractable screens are designed to reduce glare from the sun and promote even air ventilation. This will, in turn, keep us outside so we can enjoy the season.
Privacy and Security
With a denser mesh, a retractable screen can provide increased security and privacy. This added security is ideal for a front porch or a garage.
Protection Against Bugs
A swarm of wasps or mosquitos can ruin any outdoor event. Retractable screens shut the bugs out. This is especially important during high season for black flies and mosquitos. Taking a meal outside becomes much more appetizing without the threat of bugs.
Though the wind can be damaging to retractable screens if left down in a storm, many retractable screens have a built-in sensor that will retract the screens when it gets too windy.
Consider this investment into your home and your outdoor lifestyle. Get the professionals in, consider your options, and start enjoying all that the season has to offer. Contact us today and our team of experts at Jans Awnings & Rollshutters will be ready to transform your outdoor space to be more enjoyable and functional.
Share This Story, Choose Your Platform!